Legislature(1957-1958)

Committee/Member Information
Eugene Kubina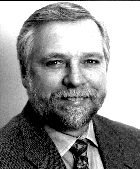 LEGISLATIVE SERVICE:

1989-1992 Representative District  
1995-1998 Representative District  

Date/Place of Birth:
April 4, 1948
Warren, Ohio
Occupation:
Teacher
Spouse:
Dona
Children:
Kaelani (daughter)
Residency in Alaska:
Shismaret 19n-78
Valdez: 1978-present
Education:
High School: Pacific High, 1964-66
University: San Bernadino Valley College
San Diego State University, 1971-74, BA
University of Hawaii, 1981-&4, MA, School Administration
political and Government Positions:
State House - appointed in 1989, elected in 1990, 1994. Chaired
State Affairs Committee and served on the Governor's special
committees on the selmon industry and the Exxon Valdez. Now
serving as Minority Whip and on the gas line interim oommittee
Business and Professional Positions:
President/vice President,
Alaska Federation of Teachers; Board of Directors,
Copper Valley Electric Association; Valdez, Cordova, Copper Basin
and Delta Chambers of Commerce .
Service Organization Membership:
Veterans of Foreign Wars, Eagles, KCHU Public Radio, Horizons
Unlimited, N.RA, Elks, American Legion, Advocates for Victims of
Violence •

Special Interests:
Fishing, sailing, raising my daughter