Legislature(1957-1958)

Committee/Member Information
Basis
Navigation
Bills
Legislators
Committees
Session
Session Laws
Tools
Archive
Cheryll Heinze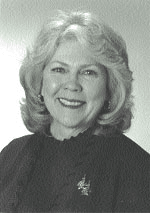 LEGISLATIVE SERVICE:

2003-2004 Representative District  

Date/Place of Birth:
October 30, 1946; Wewoka, Oklahoma
Occupation:
Professional artist
Spouse:
Harold
Children:
Reared my niece and nephew
Residency in Alaska:
20 plus years
Anchorage 1951-1954, 1989 to present
Talkeetna 1994-1997
Valdez 1986-1989
Tok 1985-1986
Education:
King High School, Diploma; East Central University, Teacher Certificate; Alaska Pacific University, B.A. 
Political and Government Positions:
Former: Deputy Commissioner of Natural Resources; former employee, Alaska Division of Tourism. 
Business and Professional Positions:
Art instructor, UAA, Rural Extension; co-owner, "His-N-Her Antiques"; owner, Adventure North Fishing & Guiding.
Service Organization(s) Membership:
Honorary Commander, 12th Fighter Squadron EAFB; former president, Anchorage Symphony League; board member, Breast Cancer Focus, Inc.; Alaska Pacific University, President's Steering Committee; former State Chamber of Commerce Representative, Regional Citizens Advisory Council; former board member: Pacific Northern Academy, Anchorage Symphony Orchestra; member, Anchorage Women's Club; member, Alaska Chamber of Commerce; former member, Talkeetna & Valdez Chambers of Commerce. 
Special Interests:
Family, music, art, poetry, community service.