Legislature(1957-1958)

Committee/Member Information
Matt Claman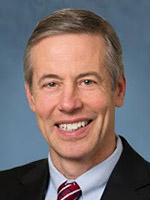 LEGISLATIVE SERVICE:

2015-2022 Representative District  
2023-2024 Senator District  

Biography:
PLACE OF BIRTH: Boston, Massachusetts
NAME OF SPOUSE: Lisa Rieger
CHILDREN'S NAMES: Maia, Benjamin
Occupation : Attorney, Wilderness Guide
LENGTH OF RESIDENCY IN ALASKA: 26
ALASKAN COMMUNITIES LIVED IN:
Anchorage (1990–present)
Juneau (1988-1989)
EDUCATION:
University of Texas School of Law (JD, 1987)
Colorado College (BA History, 1981)
National Outdoor Leadership School (1979)
POLITICAL AND GOVERNMENT POSITIONS:
Acting Mayor, Municipality of Anchorage (2009)
Assembly Member, Municipality of Anchorage (2007-2010),
Chair (2008)
Board of Governors, Alaska Bar Association (2002-2008),
President (2007-2008)
Heritage Land Bank Advisory Commission (2005-2007),
Chair (2006-2007)
BUSINESS AND PROFESSIONAL POSITIONS:
Counsel to the Firm, Lane Powell (2007-present)
Owner, Claman Law Firm (1992-1993; 1996-2006)
Law Clerk, Federal District Judge Harry Lee Hudspeth
(1987-1988)
SERVICE ORGANIZATION(S) MEMBERSHIP:
Board of Directors, Anchorage Rotary Club (2013-present)
Served on the Board of Directors of five religious and
non-profit organizations.
SPECIAL INTERESTS:
Family, boating, bicycling, skiing, hiking, cooking, playing the
trumpet, running, woodworking, and photography.
OTHER:
Emergency Medical Technician (1993-present)
Came to Alaska at 21 to work in a mining camp.
Construction worker, cook, telephone systems analyst, textile
mill worker, mail clerk, and camp counselor.