HOUSE
CHUCK KOPP

30th-31st Legislature (2017 -2020)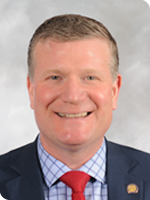 Representative Chuck Kopp

District:
24
Party:
Republican
Legislative Service
2017-2020 Representative

:

Chuck Kopp, a lifelong Alaska, is the son of educators and entrepreneurs that moved from Anchorage to Iliamna near Bristol Bay. Chuck has a B.A. in Justice from UAA and chose a career in public safety that spanned over 20 years. He served in the Anchorage and the Kenai Police Departments and graduated from the National Training Center of Polygraph Science as a Certified Expert Polygraph Examiner, skills he put to use in successfully resolving three homicides on the Kenai Peninsula where the victim's bodies were never recovered.


He served 7 years as the Chief of Police for the City of Kenai, and as Acting City Manager from 2005 – 2006. Alaska Governors Murkowski and Palin both appointed him to an oversight role on their transition teams with respect to the Department of Public Safety.


Chuck served his community coaching high school wrestling at Region II schools, serving on boards and was Co-Chair of Security for the 2006 Arctic Winter Games committee. He is an Alaska's "Top 40 under 40", and was inducted into the first inaugural class of the Alaska High School Hall of Fame for outstanding performance as a multisport athlete.


Chuck has served the State of Alaska as a Governor appointee to both the Alaska Judicial Council and Alaska Police Standards Council. Most recent, he has been Chief of Staff for two State Senators.


Chuck and his wife Trish have been married 28 years and have three children.
EDUCATION:
High School, Cook Inlet Academy, Soldotna 1979-1983
B.A. Justice, University of Alaska, Anchorage 1983-1987
FBI National Academy, Marine Corps Base Quantico 1996
Public Administration, Graduate Course Work, U of AK, Southeast 1999
POLITICAL AND GOVERNMENT POSTIONS:
Governor Palin appointee to Chair Dept. of Public Safety transition team 2006
Alaska Police Standards Council, Member & Board Chair 2003-2007
Alaska Judicial Council, Member 2007-2008
BUSINESS AND PROFESSIONAL POSITIONS:
Police Reserve Officer, Anchorage Police Department 1986-1989
Police Officer, City of Kenai, Alaska, and Bristol Bay Borough, Alaska 1989-2009
Chief of Police, City of Kenai 2002-2008
Acting City Manager, City of Kenai 2005-2006
Chief of Staff, serving Alaska State Senators 2009-2016
SERVICE ORGANIZATIONS MEMBERSHIP:
LeeShore Center 2002-2008
Alaska Peace Officers Association 1993-2015
Kenai Peninsula Community Care Center 1995-2002
SPECIAL INTERESTS:
Music, hiking, trail running, camping, hunting and fishing
OTHER:
Alaska Peace Officer Association - Statewide "Member of the Year" 2001
Alaska Journal of Commerce "Top 40 under 40" 2004
Inductee, ASAA, Alaska High School Sports Hall of Fame 2006a
Legislative Service:
Prime Sponsorship
| Bill | Short Title | Prime Sponsor(s) | | Current Status | Status Date |
| --- | --- | --- | --- | --- | --- |
| HB 10 | CONTROLLED SUBSTANCE POSSESSION; SENTENCE | REPRESENTATIVE KOPP | | (H) JUD | 04/12/2019 |
| HB 12 | PROTECTIVE ORDERS | REPRESENTATIVE KOPP | | CHAPTER 7 SLA 19 | 06/10/2019 |
| HB 13 | MED. ASSISTANCE WORK REQUIREMENT | REPRESENTATIVE KOPP | | (H) HSS | 02/20/2019 |
| HB 79 | PEACE OFFICER/FIREFIGHTER RETIRE BENEFITS | REPRESENTATIVE KOPP | | (H) RLS | 03/18/2020 |
| HB 138 | NATIONAL RESOURCE WATER DESIGNATION | REPRESENTATIVE KOPP | | (H) RES | 04/17/2019 |
| HB 221 | STATE RECOGNITION OF TRIBES | REPRESENTATIVE KOPP | | (S) STA | 03/18/2020 |
| HB 263 | TRANSFER OF RAIL PROPERTY TO THE STATE | REPRESENTATIVE KOPP | | (H) RES | 02/21/2020 |
| HB 287 | VILLAGE PUBLIC SAFETY OFFICER GRANTS | REPRESENTATIVE KOPP | | (H) FIN | 03/21/2020 |
| HJR 17 | ALLOW TRIBES TO USE FED. EDUCATION MONEY | REPRESENTATIVE KOPP | | (H) TRB | 04/22/2019 |
| HR 9 | NATIONAL/STATE DAY OF PRAYER | REPRESENTATIVE KOPP | | (H) CRA | 04/27/2019 |
Cosponsored Bills
| Bill | Short Title | Prime Sponsor(s) | | Current Status | Status Date |
| --- | --- | --- | --- | --- | --- |
| HB 14 | ASSAULT; SEX OFFENSES; SENT. AGGRAVATOR | REPRESENTATIVE LINCOLN | | CHAPTER 11 SLA 19 | 07/19/2019 |
| HB 34 | NAMING SCOTT JOHNSON MEMORIAL BRIDGE | REPRESENTATIVE TALERICO | | CHAPTER 3 SLA 19 | 05/17/2019 |
| HB 56 | ESTABLISH HMONG-AMERICAN VETERANS DAY | REPRESENTATIVE TARR | | CHAPTER 22 SLA 20 | 04/29/2020 |
| HB 71 | STATE PERSONNEL ACT: VETERANS' EXPERIENCE | REPRESENTATIVE STORY | | CHAPTER 12 SLA 20 | 04/20/2020 |
| HB 88 | NAMING TROOPER GABE RICH MEMORIAL BRIDGE | REPRESENTATIVE TALERICO | | CHAPTER 4 SLA 19 | 05/17/2019 |
| HB 98 | PROPERTY CRIME; MOTOR VEHICLE THEFT TOOLS | REPRESENTATIVE CLAMAN | | (H) JUD | 04/05/2019 |
| HB 113 | MILITARY FAMILY EMPLOYMENT PREFERENCE | REPRESENTATIVE JACKSON | | (S) STA | 03/18/2020 |
| HB 124 | ELECTRONIC DOCUMENTS AND NOTARIZATION | REPRESENTATIVE CLAMAN | | CHAPTER 24 SLA 20 | 04/29/2020 |
| HB 139 | AK PERM. FUND CORP. PROCUREMENT EXEMPTION | REPRESENTATIVE JOHNSTON | | (S) FIN | 01/21/2020 |
| HB 184 | CONTROLLED SUB. DATA: EXEMPT VETERINARIAN | REPRESENTATIVE TALERICO | | (H) HSS | 01/21/2020 |
| HB 223 | NAMING VIETNAM HELI. PILOTS' MEM. BRIDGE | REPRESENTATIVE SHAW | | (H) RLS | 03/11/2020 |
| HB 231 | ELECTRONIC DISPLAY OF FISH/GAME LICENSE | REPRESENTATIVE VANCE | | (H) RES | 02/03/2020 |
| HB 232 | MUNICIPAL TAX CREDITS | REPRESENTATIVE HOPKINS | | CHAPTER 15 SLA 20 | 04/20/2020 |
| HB 268 | MUNI BOND BANK: UA, LOAN AND BOND LIMITS | REPRESENTATIVE LEBON | | (S) FIN | 03/24/2020 |
| HB 272 | LICENSE PLATES: ALASKA NATIVES | REPRESENTATIVE VANCE | | (H) TRB | 02/24/2020 |
| HB 288 | LIABILITY OF CONSULTING PHYSICIAN | REPRESENTATIVE JOSEPHSON | | (H) HSS | 02/24/2020 |
| HB 290 | ALTERNATIVE TO ARREST: MENTAL HEALTH CTR. | REPRESENTATIVE CLAMAN | | WITHDRAWN | 03/23/2020 |
| HB 301 | ELECTRICIAN & PLUMBER APPRENTICESHIPS | REPRESENTATIVE SHAW | | CHAPTER 26 SLA 20 | 04/30/2020 |
| HB 302 | RESTRICT ABORTION IF HEARTBEAT DETECTED | REPRESENTATIVE VANCE | | (H) HSS | 02/24/2020 |
| HJR 14 | URGING SUPPORT FOR NOME DEEP DRAFT PORT | REPRESENTATIVE FOSTER | | LEGIS RESOLVE 4 | 09/19/2019 |
| HJR 23 | RESOLUTION: FED SAFE BANKING ACT/CANNABIS | REPRESENTATIVE RASMUSSEN | | (H) CRA | 01/21/2020 |
| HJR 25 | ENSURE ACCESS INTO DENALI PARK | REPRESENTATIVE TALERICO | | LEGIS RESOLVE 17 | 04/20/2020 |
| HR 6 | NAT'L. NATIVE AMERICAN VETERANS MEMORIAL | REPRESENTATIVE LINCOLN | | HOUSE RESOLVE 6 | 06/13/2019 |
| SB 40 | BLACK HISTORY MONTH | SENATOR GRAY-JACKSON | | CHAPTER 27 SLA 19 | 09/19/2019 |
| SB 55 | APPOINTMENTS TO COURT OF APPEALS | SENATOR WILSON | | CHAPTER 17 SLA 20 | 04/20/2020 |
| SB 74 | INTERNET FOR SCHOOLS | SENATOR HOFFMAN | | CHAPTER 5 SLA 20 | 03/25/2020 |
| SB 78 | ESTABLISH MAY 31 AS KATIE JOHN DAY | SENATOR BISHOP | | CHAPTER 6 SLA 19 | 05/30/2019 |
| SB 80 | INITIATIVE SEVERABILITY | SENATOR BIRCH | | (H) STA | 05/03/2019 |
| SB 83 | TELECOMMUNICATIONS REGULATION/EXEMPTIONS | SENATOR BIRCH | | CHAPTER 24 SLA 19 | 08/29/2019 |
| SB 93 | MEDICAL PROVIDER INCENTIVES/LOAN REPAYM'T | SENATOR WILSON | | CHAPTER 15 SLA 19 | 08/01/2019 |
| SB 101 | MARCH 12: ASHLEY JOHNSON-BARR DAY | SENATOR OLSON | | CHAPTER 1 SLA 20 | 03/12/2020 |
| SB 155 | EXPLORATION & MINING RIGHTS; ANNUAL LABOR | SENATOR BISHOP | | CHAPTER 31 SLA 20 | 04/29/2020 |
| SJR 7 | ENDORSING ANWR LEASING; RELATED ISSUES | SENATOR BIRCH | | LEGIS RESOLVE 1 | 03/18/2019 |