HOUSE
DAVID TALERICO

29th-31st Legislature (2015 -2020)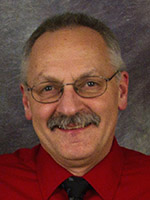 Representative David Talerico

District: 6
Party: Republican

Biography:
Date/Place of Birth:
February 23, 1956.

Residency in Alaska:
David was born in Ellensburg, Washington and moved to Suntrana, a mining community next to Healy when he was 13 years old with his family. He is one of 4 sons of Frank and Doris Talerico.

Occupation:
Miner, HR and Safety

Family:
Married at 19 to his wife Peggy They have been married 40 years. They have 2 grown children Danielle and David and 6 grandchildren.

Other Political and Government Positions:
Denali Borough Mayor - November 2002 to December 2012
Alaska Legislative Staff - January 2013 to May 2013
Upper Railbelt School Board
Denali Borough Land Use Planning Committee
Tri-Valley Volunteer Fire Dept. Board
Denali Borough Assembly
Denali Borough Mayor
Alaska Safety Advisory Council

Business and Professional Positions:
Usibelli Coal Mine - April 1974 to January 1997
Denali River View Inn - Owner/Operator October 1996 to October 2005
Usibelli - June 2013 to December 2014
:
\r\n
Date/Place of Birth:
February 23, 1956.
Residency in Alaska:
David was born in Ellensburg, Washington and moved to Suntrana, a mining community next to Healy when he was 13 years old with his family. He is one of 4 sons of Frank and Doris Talerico.
Occupation:
Miner, HR and Safety
Family:
Married at 19 to his wife Peggy They have been married 40 years. They have 2 grown children Danielle and David and 6 grandchildren.
Other Political and Government Positions:
Denali Borough Mayor - November 2002 to December 2012
\r\nAlaska Legislative Staff - January 2013 to May 2013
\r\nUpper Railbelt School Board
\r\nDenali Borough Land Use Planning Committee
\r\nTri-Valley Volunteer Fire Dept. Board
\r\nDenali Borough Assembly
\r\nDenali Borough Mayor
\r\nAlaska Safety Advisory Council
Business and Professional Positions:
Usibelli Coal Mine - April 1974 to January 1997
\r\nDenali River View Inn - Owner/Operator October 1996 to October 2005
\r\nUsibelli - June 2013 to December 2014
Legislative Service:
Prime Sponsorship
| Bill | Short Title | Prime Sponsor(s) | | Current Status | Status Date |
| --- | --- | --- | --- | --- | --- |
| HB 107 | FISH ENHANCEMENT PERMITS | REPRESENTATIVE TALERICO | | (H) RES | 04/19/2017 |
| HB 183 | PERM. FUND DIVIDEND LAND SALE | REPRESENTATIVE TALERICO | | (H) STA | 03/17/2017 |
| HB 186 | FOOD DONATIONS | REPRESENTATIVE TALERICO | | CHAPTER 1 SLA 18 | 03/06/2018 |
| HB 190 | REGULATION ADOPTION/ORAL COMMENT | REPRESENTATIVE TALERICO | | (H) STA | 03/22/2017 |
| HB 206 | EXEMPTION: CONTRACTORS, ELECTRICAL ADMIN. | REPRESENTATIVE TALERICO | | (H) ENE | 03/31/2017 |
| HB 347 | SCHOOL TRANSFERS BETWEEN REAA'S | REPRESENTATIVE TALERICO | | (H) CRA | 02/14/2018 |
| HJR 4 | SUPPORT ANWR DEVELOPMENT; RELATED ISSUES | REPRESENTATIVE TALERICO | | (H) AET | 01/20/2017 |
| HJR 24 | OIL FIELD DEVEL./INCREASE TAPS THROUGHPUT | REPRESENTATIVE TALERICO | | (H) RES | 05/10/2017 |
Cosponsored Bills
| Bill | Short Title | Prime Sponsor(s) | | Current Status | Status Date |
| --- | --- | --- | --- | --- | --- |
| HB 6 | JONESVILLE PUBLIC USE AREA | REPRESENTATIVE RAUSCHER | | CHAPTER 14 SLA 18 | 06/07/2018 |
| HB 64 | READING PROFICIENCY TASK FORCE; DYSLEXIA | REPRESENTATIVE DRUMMOND | | CHAPTER 52 SLA 18 | 07/12/2018 |
| HB 92 | APPROPRIATION LIMITS | REPRESENTATIVE TILTON | | (H) JUD | 01/30/2017 |
| HB 116 | REPEAL ART IN PUBLIC PLACES REQUIREMENT | REPRESENTATIVE EASTMAN | | (H) STA | 02/13/2017 |
| HB 143 | NAMING THE DANIEL R. FAUSKE BUILDING | REPRESENTATIVE CHENAULT | | CHAPTER 2 SLA 17 | 04/08/2017 |
| HB 176 | EMER. MEDICAL TRANSPORT SERVICE PAYMENTS | REPRESENTATIVE WOOL | | CHAPTER 34 SLA 18 | 06/20/2018 |
| HB 187 | PERM FUND EARNINGS: DIVIDEND & GEN FUND | REPRESENTATIVE WILSON | | (H) STA | 03/20/2017 |
| HB 192 | APPROP. LIMIT/BUDGET PROCESS/PERM FUND | REPRESENTATIVE PRUITT | | (H) FIN | 03/22/2017 |
| HB 239 | LIMIT PORT AUTHORITY LNG PROJECTS | REPRESENTATIVE CHENAULT | | (H) CRA | 04/26/2017 |
| HB 270 | PROHIBIT AIRCRAFT REGISTRATION | REPRESENTATIVE SADDLER | | (H) TRA | 01/16/2018 |
| HCR 6 | SUSPEND UNIFORM RULES 20, 21, 23, 24 | REPRESENTATIVE JOHNSON | | (H) STA | 02/15/2017 |
| HJR 5 | ENDORSING ANWR LEASING; RELATED ISSUES | REPRESENTATIVE WESTLAKE | | LEGIS RESOLVE 2 | 10/27/2017 |
| HJR 7 | CONST. AM.: APPROPRIATION LIMIT | REPRESENTATIVE TILTON | | (H) STA | 01/25/2017 |
| HJR 10 | LIMIT DECLARATION OF NATL. MONUMENTS | REPRESENTATIVE RAUSCHER | | (H) CRA | 02/15/2017 |
| HJR 13 | DIVISION OF 9TH CIRCUIT CT OF APPEALS | REPRESENTATIVE EASTMAN | | (H) STA | 02/24/2017 |
| HJR 22 | SUPPORT OUTER CONTINENTAL SHELF DEVELOP. | REPRESENTATIVE THOMPSON | | (H) AET | 04/28/2017 |
| HJR 37 | PUBLIC LAND/RESOURCE MANAGEMENT | REPRESENTATIVE SADDLER | | (H) RES | 02/21/2018 |
| HR 6 | OCS OIL & GAS LEASING | REPRESENTATIVE EDGMON | | HOUSE RESOLVE 6 | 10/05/2018 |
| SB 174 | PROGRAMS FOR PERSONS WITH DISABILITIES | SENATOR MICCICHE | | CHAPTER 92 SLA 18 | 08/25/2018 |