HOUSE
COLLEEN SULLIVAN-LEONARD

30th-31st Legislature (2017 -2020)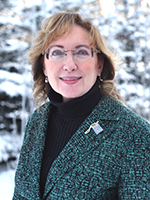 Representative Colleen Sullivan-Leonard

District:
7
Party:
Republican
Legislative Service
2017-2020 Representative

:

I am a lifelong fourth generation Alaskan with a long history of family public service. I have lived in the Mat-Su Valley since 1996, am married and have 7 children.
I served on the Wasilla City Council for a total of 7 years, finishing up in 2016; my colleagues and I worked tirelessly to keep our government budget small, efficient and accountable to our residents. We also worked to keep regulations and taxation at a reasonable level to encourage business growth. Through conservative governing, Wasilla is now the commercial hub of the Mat-Su.
I ran for State House to ensure that our next generation has the same opportunities that were afforded to me. The effect that the state budget has on our economy remains a high priority for me. I believe that we can reduce the size of government further and that now is not the time to restructure the PFD or impose an income tax or sales tax. We must encourage economic growth by ensuring we have less onerous regulations and taxation so our businesses and industries can thrive and remain successful.
I hit the ground running upon arriving in Juneau; I will work hard for my constituents and to keep Alaska moving in the right direction by sitting on the Labor & Commerce, Health & Social Services and Transportation committees for the 2017-2018 Legislative Session.
Legislative Service:
Prime Sponsorship
| Bill | Short Title | Prime Sponsor(s) | | Current Status | Status Date |
| --- | --- | --- | --- | --- | --- |
| HB 185 | HOLD LEGISLATIVE SESSIONS IN ANCHORAGE | REPRESENTATIVE SULLIVAN-LEONARD | | (H) STA | 03/17/2017 |
| HB 198 | LEGISLATOR PER DIEM | REPRESENTATIVE SULLIVAN-LEONARD | | (H) STA | 03/27/2017 |
| HB 202 | TELECOMMUNICATIONS: DISABLED SUBSCRIBERS | REPRESENTATIVE SULLIVAN-LEONARD | | (H) L&C | 03/29/2017 |
| HB 210 | TECH & VOC ED PROG;UNEMPLOY CONTRIBUTIONS | REPRESENTATIVE SULLIVAN-LEONARD | | (H) L&C | 04/05/2017 |
| HB 227 | POLITICAL CONTRIBUTION LIMITS/PROHIBITION | REPRESENTATIVE SULLIVAN-LEONARD | | (H) CRA | 04/13/2017 |
| HB 323 | EXTEND: BOARD OF PHARMACY | REPRESENTATIVE SULLIVAN-LEONARD | | CHAPTER 44 SLA 18 | 06/29/2018 |
| HB 394 | PRIVATE POLICE DEPARTMENTS | REPRESENTATIVE SULLIVAN-LEONARD | | (H) STA | 02/21/2018 |
Cosponsored Bills
| Bill | Short Title | Prime Sponsor(s) | | Current Status | Status Date |
| --- | --- | --- | --- | --- | --- |
| HB 6 | JONESVILLE PUBLIC USE AREA | REPRESENTATIVE RAUSCHER | | CHAPTER 14 SLA 18 | 06/07/2018 |
| HB 21 | APPROP. FOR 2016 PFD SUPPLEMENTAL PAYMENT | REPRESENTATIVE EASTMAN | | (H) STA | 01/18/2017 |
| HB 22 | 2016 PFD SUPPLEMENTAL PAYMENT | REPRESENTATIVE EASTMAN | | (H) STA | 01/18/2017 |
| HB 31 | DOM VIOL/SEX ASSAULT:TRAINING; EXAM KITS | REPRESENTATIVE TARR | | CHAPTER 48 SLA 18 | 06/29/2018 |
| HB 92 | APPROPRIATION LIMITS | REPRESENTATIVE TILTON | | (H) JUD | 01/30/2017 |
| HB 116 | REPEAL ART IN PUBLIC PLACES REQUIREMENT | REPRESENTATIVE EASTMAN | | (H) STA | 02/13/2017 |
| HB 136 | MOTOR VEHICLE DEALER FRANCHISES | REPRESENTATIVE CLAMAN | | CHAPTER 50 SLA 18 | 07/02/2018 |
| HB 143 | NAMING THE DANIEL R. FAUSKE BUILDING | REPRESENTATIVE CHENAULT | | CHAPTER 2 SLA 17 | 04/08/2017 |
| HB 156 | MUNI TAX EXEMPTION: ECON DEVEL PROPERTY | REPRESENTATIVE TILTON | | WITHDRAWN | 01/19/2018 |
| HB 165 | STATE PERSONNEL ACT: VETERANS | REPRESENTATIVE PARISH | | (S) STA | 04/11/2017 |
| HB 186 | FOOD DONATIONS | REPRESENTATIVE TALERICO | | CHAPTER 1 SLA 18 | 03/06/2018 |
| HB 187 | PERM FUND EARNINGS: DIVIDEND & GEN FUND | REPRESENTATIVE WILSON | | (H) STA | 03/20/2017 |
| HB 197 | COMMUNITY SEED LIBRARIES; AGRICULTURE | REPRESENTATIVE JOHNSTON | | CHAPTER 87 SLA 18 | 08/20/2018 |
| HB 205 | PROHIBIT SANCTUARY MUNICIPALITIES | REPRESENTATIVE EASTMAN | | (H) CRA | 03/31/2017 |
| HB 208 | TRUSTS; COMM PROP TRUSTS; POWERS OF APPT | REPRESENTATIVE JOHNSON | | (S) JUD | 01/31/2018 |
| HB 214 | TEEN DATING VIOL:PROGRAMS;AWARENESS MONTH | REPRESENTATIVE DRUMMOND | | CHAPTER 51 SLA 18 | 07/11/2018 |
| HB 216 | CRIMES;RESTITUTION;DIVIDEND FUND | REPRESENTATIVE KOPP | | CHAPTER 21 SLA 18 | 06/14/2018 |
| HB 236 | EXTEND: SENIOR BENEFITS PAYMENT PROGRAM | REPRESENTATIVE KAWASAKI | | CHAPTER 8 SLA 18 | 05/10/2018 |
| HB 250 | ABORTION OFFENSES; PRIVACY RIGHTS; JUDGES | REPRESENTATIVE EASTMAN | | (H) HSS | 05/15/2017 |
| HB 260 | FISH & GAME LICENSES; ELECTRONIC FORM | REPRESENTATIVE SADDLER | | CHAPTER 54 SLA 18 | 07/13/2018 |
| HB 266 | ABORTION PROCEDURES; CHILD SURRENDER | REPRESENTATIVE TILTON | | (H) HSS | 01/16/2018 |
| HB 269 | DISTILLERY LICENSEES; SERVICE ON PREMISES | REPRESENTATIVE TUCK | | (H) L&C | 02/09/2018 |
| HB 301 | ALCOHOL LICENSES:BEV DISP/RESTAUR./LODGE | REPRESENTATIVE WOOL | | READ 2ND TIME (S) | 05/12/2018 |
| HB 308 | FAMILY PLANNING GRANTS; NOT FOR ABORTIONS | REPRESENTATIVE EASTMAN | | (H) HSS | 01/26/2018 |
| HB 312 | CRIMES/CRIM PRO;CONTROLLED SUBTANCES;BAIL | REPRESENTATIVE CLAMAN | | CHAPTER 22 SLA 18 | 06/14/2018 |
| HCR 6 | SUSPEND UNIFORM RULES 20, 21, 23, 24 | REPRESENTATIVE JOHNSON | | (H) STA | 02/15/2017 |
| HCR 19 | GOVERNOR: AK NATIVE LANGUAGES EMERGENCY | REPRESENTATIVE ORTIZ | | LEGIS RESOLVE 35 | 10/05/2018 |
| HJR 3 | CONST. AM: 90 DAY REGULAR SESSION | REPRESENTATIVE CLAMAN | | (H) STA | 01/18/2017 |
| HJR 7 | CONST. AM.: APPROPRIATION LIMIT | REPRESENTATIVE TILTON | | (H) STA | 01/25/2017 |
| HJR 13 | DIVISION OF 9TH CIRCUIT CT OF APPEALS | REPRESENTATIVE EASTMAN | | (H) STA | 02/24/2017 |
| HJR 15 | OPPOSE FEDERAL ID REQUIREMENTS | REPRESENTATIVE JOHNSON | | (S) STA | 04/17/2017 |
| HJR 28 | CONST. AM: ELECTED ATTORNEY GENERAL | REPRESENTATIVE NEUMAN | | (H) STA | 01/16/2018 |
| HJR 32 | CONST. AM: PARENTAL CONSENT TO ABORTION | REPRESENTATIVE LEDOUX | | (H) HSS | 02/07/2018 |
| SB 6 | INDUSTRIAL HEMP PRODUCT.;CANNABIDIOL OIL | SENATOR HUGHES | | CHAPTER 5 SLA 18 | 04/12/2018 |
| SB 14 | TRANSPORTATION NETWORK COMPANIES/DRIVERS | SENATOR COSTELLO | | CHAPTER 31 SLA 18 | 06/18/2018 |
| SB 46 | OCT 25: AFR-AMER SOLDIERS AK HWY DAY | SENATOR WILSON | | CHAPTER 5 SLA 17 | 04/30/2017 |
| SB 80 | TELECOMMUNICATIONS: DISABLED SUBSCRIBERS | SENATOR COSTELLO | | CHAPTER 110 SLA 18 | 09/29/2018 |
| SB 88 | AK MENTAL HEALTH TRUST LAND EXCHANGE | SENATOR STEDMAN | | CHAPTER 22 SLA 17 | 08/10/2017 |
| SB 152 | ESTABLISH: PATRIOT DAY;PTSI AWARENESS DAY | SENATOR MEYER | | CHAPTER 105 SLA 18 | 09/11/2018 |