23rd-23rd Legislature (2003 -2004)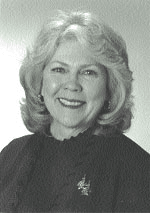 Representative Cheryll Heinze
District: 24
Party: Republican

Legislative Service
2003-2004 Representative

Date/Place of Birth:
October 30, 1946; Wewoka, Oklahoma
Occupation:
Professional artist
Spouse:
Harold
Children:
Reared my niece and nephew
Residency in Alaska:
20 plus years Anchorage 1951-1954, 1989 to present Talkeetna 1994-1997 Valdez 1986-1989 Tok 1985-1986
Education:
King High School, Diploma; East Central University, Teacher Certificate; Alaska Pacific University, B.A.
Political and Government Positions:
Former: Deputy Commissioner of Natural Resources; former employee, Alaska Division of Tourism.
Business and Professional Positions:
Art instructor, UAA, Rural Extension; co-owner, "His-N-Her Antiques"; owner, Adventure North Fishing & Guiding.
Service Organization(s) Membership:
Honorary Commander, 12th Fighter Squadron EAFB; former president, Anchorage Symphony League; board member, Breast Cancer Focus, Inc.; Alaska Pacific University, President's Steering Committee; former State Chamber of Commerce Representative, Regional Citizens Advisory Council; former board member: Pacific Northern Academy, Anchorage Symphony Orchestra; member, Anchorage Women's Club; member, Alaska Chamber of Commerce; former member, Talkeetna & Valdez Chambers of Commerce.
Special Interests:
Family, music, art, poetry, community service.
Legislative Service:
Prime Sponsorship
| Bill | Short Title | Prime Sponsor(s) | | Current Status | Status Date |
| --- | --- | --- | --- | --- | --- |
| HB 1 | STALKING & PROTECTIVE ORDERS | REPRESENTATIVES HEINZE, CRAWFORD | | CHAPTER 87 SLA 03 | 06/13/2003 |
| HB 10 | GROUP HEALTH INS: PRIVATE GROUPS/PERSONS | REPRESENTATIVES HEINZE, ROKEBERG | | CHAPTER 54 SLA 04 | 06/14/2004 |
| HB 99 | INSURANCE FOR MOTOR VEHICLE REPAIRS | REPRESENTATIVE HEINZE | | (H) TRA | 02/14/2003 |
| HB 142 | RESPONSIBILITY FOR CARE AFTER EYE SURGERY | REPRESENTATIVE HEINZE | | (H) FIN | 04/02/2003 |
| HB 143 | PERMANENT FUND INELIGIBILITY FOR DUI | REPRESENTATIVE HEINZE | | (H) JUD | 03/03/2003 |
| HB 144 | PFD INELIGIBILITY/MOTOR VEHICLE INSURANCE | REPRESENTATIVE HEINZE | | (H) JUD | 03/03/2003 |
| HB 391 | EMPLOYER MUST LET CRIME VICTIM OFF WORK | REPRESENTATIVE HEINZE | | (H) L&C | 01/20/2004 |
| HB 392 | SEAT BELT VIOLATION AS PRIMARY OFFENSE | REPRESENTATIVE HEINZE | | (H) TRA | 01/20/2004 |
| HB 406 | COMMERCIAL SEAFOOD COMMISSION | REPRESENTATIVE HEINZE | | (H) EDT | 01/28/2004 |
| HB 452 | GUIDED SPORT FISHING/ ADFG & CFEC RECORDS | REPRESENTATIVE HEINZE | | CHAPTER 70 SLA 04 | 06/16/2004 |
| HB 453 | JOINT ACTION AGENCIES | REPRESENTATIVE HEINZE | | (H) FIN | 03/24/2004 |
| HB 499 | 911 SYSTEMS | REPRESENTATIVE HEINZE | | (H) CRA | 02/16/2004 |
| HCR 29 | SUPPORT THERAPEUTIC COURTS | REPRESENTATIVE HEINZE | | LEGIS RESOLVE 65 | 06/28/2004 |
| HJR 16 | SUPPORTING MEMBERS OF MILITARY | REPRESENTATIVE HEINZE | | (H) MLV | 03/12/2003 |
| HJR 28 | TAIWAN: TRADE & WORLD HEALTH ASSEMBLY | REPRESENTATIVE HEINZE | | LEGIS RESOLVE 29 | 07/15/2003 |
Cosponsored Bills
| Bill | Short Title | Prime Sponsor(s) | | Current Status | Status Date |
| --- | --- | --- | --- | --- | --- |
| HB 12 | HARASSMENT BY ELECTRONIC COMMUNICATION | REPRESENTATIVE MEYER | | CHAPTER 13 SLA 03 | 05/01/2003 |
| HB 16 | STRANDED GAS DEVELOPMENT ACT AMENDMENTS | REPRESENTATIVE FATE | | CHAPTER 4 SLA 03 | 04/07/2003 |
| HB 21 | MEDICAID FOR BREAST & CERVICAL CANCER | REPRESENTATIVES KERTTULA, KAPSNER, CISSNA | | (H) FIN | 02/26/2003 |
| HB 36 | ELECTRONIC MAIL | REPRESENTATIVE GARA | | (S) L&C | 05/21/2003 |
| HB 49 | EXPAND DNA DATABASE | REPRESENTATIVES ANDERSON, HAWKER | | CHAPTER 88 SLA 03 | 06/13/2003 |
| HB 51 | LABELING OF PRESCRIBED DRUGS | REPRESENTATIVE SEATON | | CHAPTER 123 SLA 04 | 06/29/2004 |
| HB 52 | SEX CRIME AND PORNOGRAPHY OFFENSES | REPRESENTATIVE MCGUIRE | | CHAPTER 41 SLA 03 | 06/05/2003 |
| HB 57 | ROYALTY GAS CONTRACTS AGRICULTURAL CHEM. | REPRESENTATIVE CHENAULT | | CHAPTER 58 SLA 03 | 06/11/2003 |
| HB 59 | CLEANUP OF ILLEGAL DRUG SITES | REPRESENTATIVE HOLM | | CHAPTER 142 SLA 03 | 07/16/2003 |
| HB 68 | OFFICE OF VICTIMS' RIGHTS: INCLUDE MUNIS | REPRESENTATIVE SAMUELS BY REQUEST | | CHAPTER 6 SLA 03 | 04/11/2003 |
| HB 69 | REGULATION OF SHALLOW NATURAL GAS | REPRESENTATIVE KOHRING | | CHAPTER 45 SLA 03 | 06/06/2003 |
| HB 73 | EXTEND STATE MEDICAL BOARD | REPRESENTATIVE DAHLSTROM | | (H) RLS | 02/28/2003 |
| HB 74 | EXTEND BOARD OF NURSING | REPRESENTATIVE DAHLSTROM | | CHAPTER 2 SLA 03 | 03/27/2003 |
| HB 84 | ALASKA HISTORY CURRICULUM | REPRESENTATIVE KAPSNER | | (S) HES | 05/10/2004 |
| HB 86 | INJUNCTIONS AGAINST PERMITTED PROJECTS | REPRESENTATIVE FATE | | CHAPTER 81 SLA 03 | 06/12/2003 |
| HB 91 | RETIRED PEACE OFFICER'S MEDICAL BENEFITS | REPRESENTATIVE ANDERSON | | (S) FIN | 05/05/2004 |
| HB 92 | CLERGY TO REPORT CHILD ABUSE | REPRESENTATIVE LYNN | | (S) HES | 04/29/2003 |
| HB 102 | CONCEALED DEADLY WEAPONS | REPRESENTATIVE CROFT | | CHAPTER 62 SLA 03 | 06/11/2003 |
| HB 107 | MEDICAID FOR BREAST & CERVICAL CANCER | REPRESENTATIVE DAHLSTROM | | (H) FIN | 02/26/2003 |
| HB 178 | INSURANCE COVERAGE FOR CONTRACEPTIVES | REPRESENTATIVE CROFT | | (H) HES | 03/07/2003 |
| HB 205 | PFD: PEACE CORPS VOLUNTEERS & MISC | REPRESENTATIVE MCGUIRE | | (S) JUD | 05/15/2003 |
| HB 214 | PUNITIVE DAMAGES AGAINST EMPLOYERS | REPRESENTATIVE SAMUELS | | CHAPTER 85 SLA 03 | 06/13/2003 |
| HB 275 | ANIMALS AND CRUELTY TO ANIMALS | REPRESENTATIVE CHENAULT | | CHAPTER 139 SLA 04 | 06/30/2004 |
| HB 282 | UNIVERSITY EMPLOYEE RESEARCH CONTRACTS | REPRESENTATIVE FATE | | CHAPTER 22 SLA 04 | 04/23/2004 |
| HB 283 | ACREAGE FOR COAL LEASES | REPRESENTATIVE FATE | | CHAPTER 91 SLA 03 | 06/13/2003 |
| HB 294 | OFFENSES AGAINST UNBORN CHILDREN | REPRESENTATIVE LYNN | | (H) HES | 05/01/2003 |
| HB 304 | JACK COGHILL BRIDGE TO THE INTERIOR | REPRESENTATIVE COGHILL | | CHAPTER 7 SLA 04 | 03/15/2004 |
| HB 333 | PUBLIC SCHOOL ENDOWMENT / UNIVERSITY LAND | REPRESENTATIVES OGG, COGHILL, HOLM | | (S) RES | 05/01/2004 |
| HB 337 | ANATOMICAL GIFTS REGISTRY/AWARENESS FUND | REPRESENTATIVE MCGUIRE | | CHAPTER 68 SLA 04 | 06/16/2004 |
| HB 355 | GIFTS TO BUILD A STATE VETERANS HOME | REPRESENTATIVE CROFT | | (H) MLV | 01/12/2004 |
| HB 385 | AWARDING CHILD CUSTODY | REPRESENTATIVE MCGUIRE | | CHAPTER 111 SLA 04 | 06/29/2004 |
| HB 386 | NATURAL GAS DEVELOPMENT AUTH. CONTRACT | REPRESENTATIVE CROFT | | (H) O&G | 02/16/2004 |
| HB 430 | EMPLOYEES UNDER 21 AT LICENSED PREMISES | REPRESENTATIVE KERTTULA | | CHAPTER 174 SLA 04 | 07/26/2004 |
| HB 432 | STUDENT LOAN FORGIVENESS | REPRESENTATIVE KERTTULA | | (H) EDU | 02/04/2004 |
| HB 435 | PREPARED FOOD:WILD/FARMED FISH DISCLOSURE | REPRESENTATIVE KERTTULA | | (H) FSH | 02/04/2004 |
| HB 474 | LIABILITY FOR AIRPORTS AND AIRSTRIPS | REPRESENTATIVE HOLM | | CHAPTER 39 SLA 04 | 06/04/2004 |
| HB 493 | LONG TERM FISCAL PLAN | REPRESENTATIVE HARRIS | | (H) FIN | 04/21/2004 |
| HCR 1 | CONGRATULATE GOVERNOR/LT. GOVERNOR | REPRESENTATIVE LYNN | | (H) STA | 01/21/2003 |
| HCR 8 | INHALANTS AND POISONS AWARENESS WEEK | REPRESENTATIVE KAPSNER | | LEGIS RESOLVE 5 | 03/27/2003 |
| HCR 10 | RESTORATION OF RIPARIAN HABITAT | REPRESENTATIVE WOLF | | (S) RES | 05/09/2003 |
| HCR 11 | ALASKA WILD SALMON WEEK | REPRESENTATIVE WOLF | | LEGIS RESOLVE 15 | 05/08/2003 |
| HCR 12 | HONORING CONGRESSMAN DON YOUNG | REPRESENTATIVE STOLTZE | | (H) STA | 03/19/2003 |
| HCR 13 | LOCATION OF NEW SEAFOOD LAB | REPRESENTATIVE SAMUELS | | (H) FIN | 03/19/2003 |
| HCR 19 | ALASKA HISTORY CURRICULUM | REPRESENTATIVE KAPSNER | | (H) EDU | 05/16/2003 |
| HCR 31 | TRAUMATIC BRAIN INJURY AWARENESS MONTH | REPRESENTATIVE MCGUIRE | | LEGIS RESOLVE 43 | 05/07/2004 |
| HCR 32 | AK INFO INFRASTRUCTURE POLICY TASK FORCE | REPRESENTATIVE KOTT | | LEGIS RESOLVE 52 | 06/28/2004 |
| HJR 15 | PLEDGE OF ALLEGIANCE/SPLIT 9TH CIRCUIT | REPRESENTATIVE LYNN | | (H) JUD | 03/10/2003 |
| HJR 18 | SUPPORTING U.S. ARMED FORCES | REPRESENTATIVE LYNN | | LEGIS RESOLVE 8 | 04/24/2003 |
| HJR 32 | LABELING OF FISH & FISH PRODUCTS | REPRESENTATIVE KERTTULA | | LEGIS RESOLVE 38 | 04/01/2004 |
| HR 8 | RONALD REAGAN DAY | REPRESENTATIVE STEPOVICH | | HOUSE RESOLVE 8 | 08/13/2004 |
| SB 54 | NO OVERTIME PAY FOR FLIGHT CREW | SENATOR OLSON | | CHAPTER 11 SLA 03 | 04/17/2003 |
| SB 78 | MEDICAID FOR BREAST & CERVICAL CANCER | SENATOR GREEN | | CHAPTER 9 SLA 03 | 04/16/2003 |
| SB 348 | APPROVE FLINT HILLS ROYALTY OIL SALE | SENATOR THERRIAULT | | CHAPTER 6 SLA 04 | 03/09/2004 |
| SJR 9 | SUPPORTING MEMBERS OF MILITARY | SENATOR BUNDE | | LEGIS RESOLVE 6 | 04/24/2003 |
| SJR 10 | PLEDGE OF ALLEGIANCE RESOLUTION | SENATOR GREEN | | LEGIS RESOLVE 20 | 08/25/2003 |